How Can a Home Equity Credit Line Help You Enjoy a Beach Vacation Over the Holidays? 
Are you overdue for a holiday? Is it your dream to take your family on a vacation before the year is over? A home equity credit line can help you escape to the beach. You can have a vacation without costing extra via high-interest credit card payments.
If you've considered (or already booked) airline tickets and hotels on your high-interest credit cards, you know that your family vacation will come at a premium. Whether you've already booked or are just in the process, a home equity line of credit (HELOC) can help you avoid paying extra for that well-deserved vacation.

Financing Your Vacation With Home Equity
Do you know that you can use your home as collateral for funds that you can use however you choose? A HELOC is an easy way to use the equity in your home to pay for what you need today. You can pay it off later with affordable monthly payments. If you've had time to build up equity in your home you'll likely qualify for a home equity credit line.
Financing a vacation this way is a good option. Especially, if you want to avoid higher interest rates and lower your interest payments. If you don't have cash on hand to pay for a vacation with a lump sum, borrowing money means you can book now and pay later.
Consolidating High-Interest Debts to Make Your Vacation More Affordable
You may have already hit your credit limit on some or all of your cards. Debt consolidation can help you reduce the minimum payments you'll have to make. You can save a lot of money by reducing your interest. Even if your credit score isn't perfect, a home equity line of credit may still be an option for you.
One of the key benefits of applying for a HELOC is that you don't have to worry about paying off the mortgage balance on your primary (first) mortgage. Whatever deal you have in place with your existing mortgage company, will remain intact and uninterrupted. You'll simply add one of our home equity loans to your monthly bill payments. You can stop paying high interest to your credit card company.
How Does a Home Equity Credit Line Work?
First, a home equity loan requires that you have not already used the maximum amount of equity available in your property. Provided that you still have some equity available, you can use your home as collateral. Equity can secure the funding you need. Credit and income are rarely considered.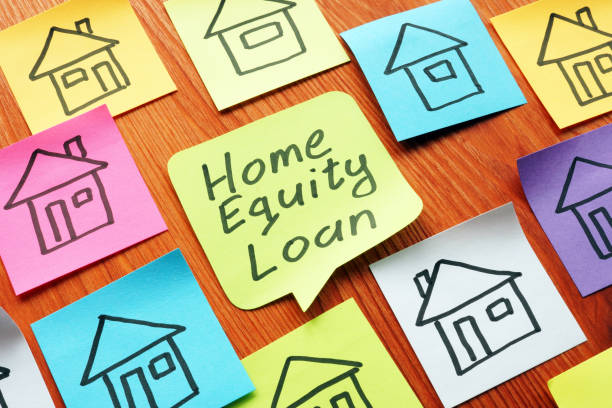 Your home equity is most important to the approval process. If you'd like to find out how much equity you currently have, please check out our home equity calculation tool.
Your home equity is calculated by subtracting any existing mortgages or liens from the current estimated value of your property. For example, if your home is worth $350,000.00 and your remaining mortgage is $200,000.00, you have $150,000.00 in equity.
What Are the Types of Home Equity Loans Available? 
When it comes to home equity loans, there are two types that you can apply for. Fixed-term loans are the first option many homeowners consider.  Generally speaking, these are short-term loans that you will receive as one lump sum. The interest rate you'll pay is usually fixed and your monthly payments are based on the amount advanced to you.
Fixed-rate home equity loans are easier to qualify for because they don't require income or credit. Your credit score won't trip you up during the application process and you can apply with bad credit.
Conversely, a revolving loan is commonly referred to as a home equity line of credit. A HELOC is approved for a predetermined amount. Instead of advancing all of the funds to you at once, you access them as you need them. Essentially this type of loan is very similar to having a credit card – without the high interest.
Your monthly payments will be based on what you owe during the billing cycle. Once you've paid off your credit, you can re-use it. HELOCs are typically more difficult to qualify for. Most home equity credit line lenders will want to see good credit and proof of income.
If Not For A Vacation, Why Borrow Against Home Equity? 
As a homeowner, you may want to tap into your equity for a variety of reasons. We recommend financing a vacation because it will save on interest payments levied against your credit card. However, there are many reasons to consider an equity-based loan or HELOC. First of all, you get access to fast cash and can use it to remedy many common financial problems. Here are a few things to consider:
A home equity loan can be used for consolidating high-interest debt and even taxes or payday loans.
Home renovations and unexpected repairs can be completed with ease.
Catching up on property tax arrears is a breeze.
If you're facing power of sale or foreclosure, home equity can help stop legal action.
A home equity credit line can help you rebuild your credit if you currently have a bad score.

Your Home Equity Credit Line and Your Bad Credit
Many of us have been there, facing a financial crisis such as job loss, illness, or injury. If you've been unable to work and your credit has suffered we can help. Your credit score doesn't have to rule you out of the equity lending game. As a general rule, our lending partners will approve loans based on equity. Your credit score will be less of a factor than it was when you applied for a bank loan.
Another common reason banks will turn you down is income requirements. If you've tried and been unable to meet your bank's standards, we can help. We will listen to your story and explain your situation to our lenders. You will never be turned down because your income reporting is a challenge.
Even if one of the major banks has told you a loan is impossible, apply with us. We offer a wide variety of solutions to fit almost every circumstance. We understand that a mortgage is not a "one size fits all" solution. Our experts have access to many different lenders. What is mandatory for one lender may be flexible for another.
Not every lender has adopted the same tight restrictions the major banks are following. We guarantee that our home equity loans are based on common sense lending practices.
Why choose Turnedaway.ca?
Our team has helped many people obtain home equity loans over the past 30 years. We are confident that we can help you find financing if you've been turned away by your bank for a loan in Canada. The Turnedaway.ca team understands that no two borrowers are the same.
We treat every deal as a unique opportunity to help someone find the happiness they deserve. If you'd like to have an extra happy holiday this year, apply online now and let us help you today!